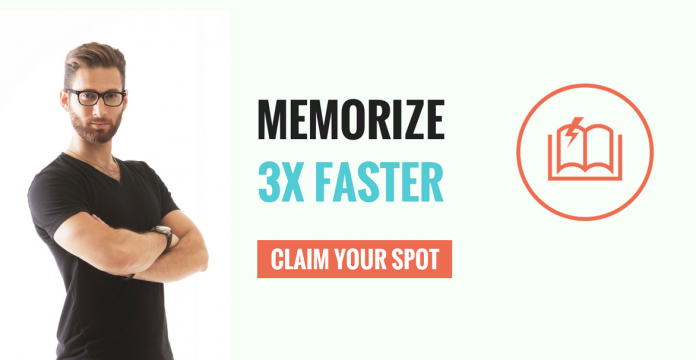 SuperHuman Academy released a new video training program, called Become A SuperLearner Masterclass. This is a unique memory course by Jonathan Levi that is designed to help students master advanced memory techniques and learn how to become super human super fast.
Do you want to learn speed reading and boost your memory?
Join Jonathan Levi's memory course Become A SuperLearner Masterclass or opt-in for his personal development Boot Camp at: https://go.superhumanacademy.com/training .
The memory training course Become A SuperLearner Masterclass features various tools and techiques that allow you to develop a structured approach to learning.
SuperLearner Masterclass includes advanced technies and methods, many powerful resources that enable students to hack their memory, reading and learning skills and develop new superlearner abilities.
The course includes 10 modules. Students will learn more about super-learning techniques and how to set themselves for success. They will explore the incredible power of visual memory, key mental markers, super learning frameworks and systems for creating and maintaining memories.


Jonathan Levi also teaches students how to read with their eyes and not with their inner voice and thus speed up their reading and comprehension skills.
And, the willingness to learn along with learning how to do so can heavily outweigh the influence of natural intelligence.
The superlearner online course lasts 10 weeks. Participants are expected to spend 2-3 hours every week or just 30 minutes each day.
The memory course was developed by Jonathan Levi who is an accomplished best-selling author of The Only Skill That Matters, inspiring podcasts host, and TEDx speaker. He is a renowned expert featured in Business Insider, Life Hacker and other notable programs.
Students get access to over 14 hours of video training material, 17 detailed worksheets, and guides that help them train and apply the knowledge and superlearner skills they have acquired. All participants have direct access to the instructors.
For all those people who are looking to develop new superhuman abilities, we highly recommend purchasing the book The Only Skill That Matters Audiobook & eBook Bundle by Jonathan Levi. You can read more about it at http://letsgolook.at/superhumanacademy-book .
Get the free trial of the SuperHuman Boot Camp All Access Pass and explore all powerful super learner resources by SuperHuman Academy. The Superhuman Boot Camp gives you access to the following self-improvement courses:
Become a SuperLearner 2.0
​Become a Speed Demon 2.0
Build Your SuperHuman Body

​Digital Declutter

​Ultimate Advantage 1.0

​Become a SuperHuman

​Creating a Meaningful Life

​Passive Income Powerhouse

​Raising SuperLearners

​5 Day Memory Mastery

NEW! Journaling Mastery

​Instant Access To Select Future Courses

​Removing the limits to your personal growth
A satisfied student shared: "If I were to compare Superhuman Academy content to that of competitors, I find the Superhuman Academy content to be more engaging. Speaking is clear. Content is usually relevant. Content is also put into action throughout."
Find out more at https://go.superhumanacademy.com/training .