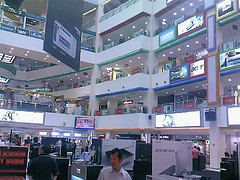 With all the new technology being introduced each passing day, keeping up with all the hottest gadgets and trends can be a full time job in and of itself. That is why we here at HightTechDeck.com are committed to giving you all the best information, product reviews and tips on all the newest tech gadgets.
 We will sort out which products you need to get your hands on and how you can get them. We will also tell you which gadgets you need to steer clear of and which ones are simply overpriced and unnecessary.
Driving around from store to store to compare prices, check out the latest gear and ask advice about new gadgets is simply too much work and takes too much time. At HighTechDeck.com we have done all this work for you. No more hassling with store managers and sales representatives, we have already compiled all the answers you need.
From computers to Tv's to iPods and any other tech gadget, we will supply you with all the knowledge and tools you need to make an informed investment. We will help you make the most out of technology. Now you can save money, reduce the hassle and make your life easier with all the latest gizmos and gadgets thanks to HighTechDeck.com.