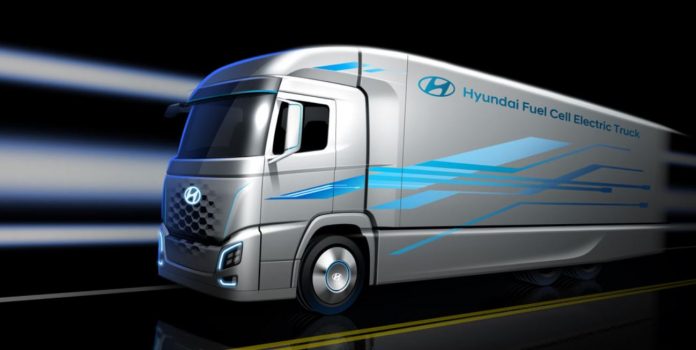 Hyundai Motor revealed the model of a new fuel cell electric truck which the company plans to launch the vehicle for commercial use in 2019.
The train has a distinctive environmentally-friendly design. The company will announce the plans for the European market at the IAA Commercial Vehicles Fair 2018 that will take place in Hannover.
After the ix35 Fuel Cell and the NEXO, Hyundai announces another milestone for its leadership aspirations in fuel cell technology, with the presentation of an electric truck with a fuel cell. This electric truck has a distinctive design that distinguishes it from other Hyundai commercial vehicles. The company has aimed to develop a simple and clean design as a result of which the vehicle is also aerodynamic, and extremely efficient with a spoiler and side shield.
The front grille symbolizes hydrogen through geometric shapes. The model features a unique and powerful look and creates the impression of a dynamic character. The vehicle exudes a friendly appearance with the environment, with an iconic blue color application and a bold graphic on the side of the body in the container.
During the IAA Commercial Vehicles 2018, which will take place in Hannover, Germany, Hyundai will announce the future plans for the introduction of the fuel cell electric truck in the European market of ecological commercial vehicles next year, in addition to revealing the specifications of the truck.
Hyundai Motor also reported the successful completion of a road trip in South Korea with a semi-trailer truck which was operated by an autonomous navigation. According to an official company announcement, the Xcient Hyundai truck passed approximately 40 km on the road, which was the distance between Uiwang and Incheon, transporting a large semi-trailer that simulates cargo transport, showing Hyundai's innovative technological advance in future mobility.
Hyundai Motor de Mexico (HMM) has its corporate offices in Mexico City, it is a subsidiary of Hyundai Motor Company, based in Korea. With such moves, Hyundai Motor again reaffirms its commitment to become a life partner for its customers and provide experiences that exceed the expectations of consumers.