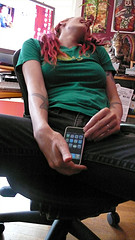 You may want to think twice before grabbing your friend's iPhone again. A new application has been released for the iPhone by Apple which makes it possible to turn an innocent looking phone into a sex toy! That's right; the MyVibe app which can be found in the iTunes store for free can turn your iPhone into a vibrator!
 
How It Works

The application includes a power button which is similar to a computer's power button, and arrows (up and down) to control the vibration. A lower number vibration level will make the pulses quicker and a higher number vibration level will make the pulses slower.
 
When the MyVibe app is turned on, you can use the arrows to control the vibrator while it works its magic and hits a climax that no one thought possible via a phone. The vibration intensity does have its limits since the iPhone can only vibrate so much, but the application never guarantees ultimate pleasure either.
Choose How you Use MyVibe Wisely

It may just be a cool feature to some but others may still use the application for sexual pleasure. To be honest, what you choose to do with this new iPhone application is completely up to you. And what you do in the privacy of home is no one's business but yours. Whether you use this application for its literal use, or as a joke, the fact remains that it is quite entertaining either way. This application takes text messaging that cutie you met at the bar a whole new meaning.
 
The MyVibe application could bring a whole new meaning to phone sex, adding vibration to the genitals while sending dirty texts back and forth to your partner can definitely make things more interesting. However if you find yourself with your partner and you're fooling around with the iPhone vibrator app, you may want to turn your ringer off so that your boss or mother doesn't end up calling you in the middle of a juicy situation. With this application it is important to remember when it is time for fun, and when it is time to be serious.
 
Whether the iPhone's MyVibe app interests you enough to use it as a sex toy or you just want to play around with it, there is nothing to lose by trying it out. Since it's completely free to download you might as well get it from the iTunes app store today.
No items matching your keywords were found.