News and Notes from the Technology World
The world of science and technology is one of constant change and dynamism. There are newer and newer gadgets and technology being built everyday which would never have occurred to man in his wildest dreams even a few decades back. Day by day, man is stretching the limits of his brain and coming up with advanced contraptions that are, in some way or the other, changing the world in some way or the other. So here is some latest news from that end, highlighting some of the newest quirks from the gizmo world.
AMD Celebrates Big Sales
Firstly, there is some celebratory news from AMD, a company which supplies computer processors. AMD has just shipped off its 500 millionth X86 processor. The company has recently celebrated its 40th year in existence and has also released news that 500 million CPUs have been sold by them. Intel was contacted about this piece of marvelous achievement and was asked as to how they felt about the success that their competition was enjoying. Surprisingly however they chose to remain vague about it.
HTC Click
The new Android powered HTC Click mobile is said to be putting up a real low price in the market, making it accessible to a larger cross section of people. It is being said that the Android powered HTC Click would usher in a range of Android powered mobile phones which would be part of the lower end segment.
Google Latitude on the iPhone
Lastly, the Google Latitude program has finally made it onto the iPhone. This way the iPhone comes up to its competitors like BlackBerry, Windows Mobile 5.0 and S60, with regards to this application. It is available to all iPhone users as a web application which pinpoints your current location through their web browser Safari. It has not been added to the Maps section of the iPhone, but separately as a selectable option. According to Google, or as far as their blog goes, Apple was worried that users might confuse it with the Maps application of the iPhone.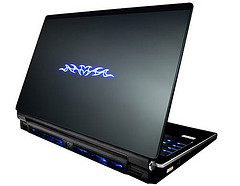 The Most Powerful Gaming Laptop Ever……..Until Tomorrow
Moving on to  the latest news in the world of gaming and which laptop has finally been declared the best gaming machine ever by gizmo and gaming geeks all over the world.  As I said earlier, this world is constantly evolving and changing itself over the years and there is always something new that comes up and destroys or rather renders the earlier developments obsolete. In a case from 2005, CompAmerica's machine , the "Orca 9098" was called to be the most powerful gaming machine. It had a 3.8 GHz Pentium 4. However, over the years different machines have held this title, but all have been short-lived obviously. Now, the eX-L 18 has grabbed  the award with Intel Core 2 Duo Extreme processor, twin NVIDIA GeForce GTX 280M GPUs, up to 8GB of DDR3 memory, up to three 2.5-inch SATA or SSD drives, an optional Blu-ray drive and also an LCD 18.4-inch screen with a 1,920 x 1,080 resolution.
That about wraps things up on the technology front; these items are hot right now but as this are and have always been in the tech market, they will soon be old news.  Get out and grab a hold of an iPhone or rock out a session of a first person shooter on the eX-L 18 and enjoy the perks of living in the 21st century.
No items matching your keywords were found.