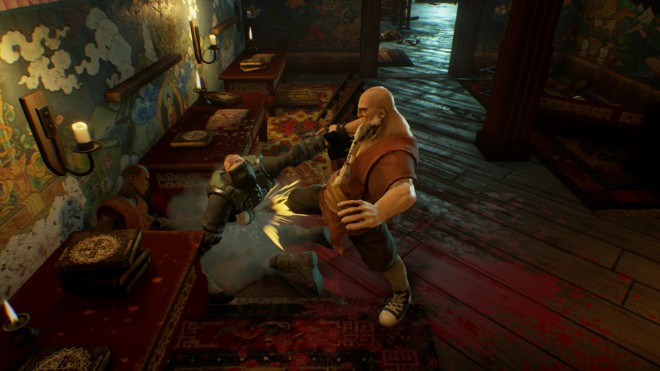 BUKA Entertainment and Sobaka Studio announce they plan to launch the new brutal brawled Redeemer for PlayStation 4, Xboc One, and Nintendo Switch in August 2018.
Initially released on Steam in 2017, Redeemer gained an overwhelming amount of feedback due to its charismatic protagonist and vigorous bloody gameplay.
The development team have taken into account the community's input and have tweaked the local co-op, character classes (Monk and Soldier) as well as they have improved some levels' balance to meet the expectations of the game players.
The Redeemer: Enhanced Edition announcement trailer reveals the origin story of Vasily's plight as well as game combat mechanics and Enhanced Edition features. Vasily, once an elite operative working for the biggest Cybernetic Weapon Manufacturer in the world, narrowly escaped to a secluded monastery when the corporation wanted to make him one of its cyborg soldiers.
For 20 years he tried to find peace and harmony amongst fellow monks until the corporation eventually found his trace and is now closing in on Vasily's location. In so doing, they have given him one last shot at redemption.
Redeemer: Enhanced Edition is an intense modern take on the brawler genre where you will punch, hack, and blast your way through enemies using fists, hammers, fire arms, and the environment itself.
The game will feature an intense top down action, brutal hand-to-hand combats, character class selections and unique kill system. According to the game description it will come with a disarm-or-dismember system and will be a story-driven single-player. It will allow users to use a cooperative mode and thus two players can play together and walk alongside in the game.
The game will be available for a price of $19.99 on PlayStation 4 and Xbox One, and $24.99 on Nintendo Switch.