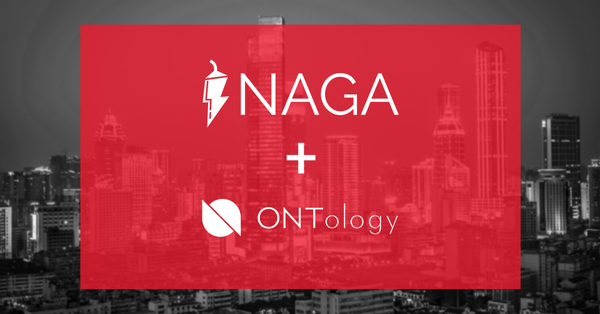 In an official press release, the German publicly listed FinTech company NAGA Development Association Ltd announce the start of a long-term strategic partnership with Ontology Network. 
The key focus of the partnership of these two giants will be to explore innovative approaches in removing the barriers to blockchain business applications. Both companies are strongly committed to joining forces in strengthening the NAGA environment by working on application development, outreach, incubation and building a new generation of public blockchain infrastructure and a distributed trust ecosystem.
Ontology is a chain infrastructure, which supports collaboration on different chain network. It allows businesses without previous knowledge of distributed networks to use blockchain technology.
According to NAGA Founder and Executive Director, Yasin Sebastian Quresh, the Ontology & NAGA combined efforts will be extremely beneficial for both companies and their user communities.
He welcomed the partnership by saying, "We think that this partnership can really change the way crypto companies act and execute their promises. Our and Ontology's precision and hard-working ethos will help us to not only deliver products ahead of the roadmap, but to also make them more reliable and more valuable for the whole community."
The community reacted extremely positively to the announcement: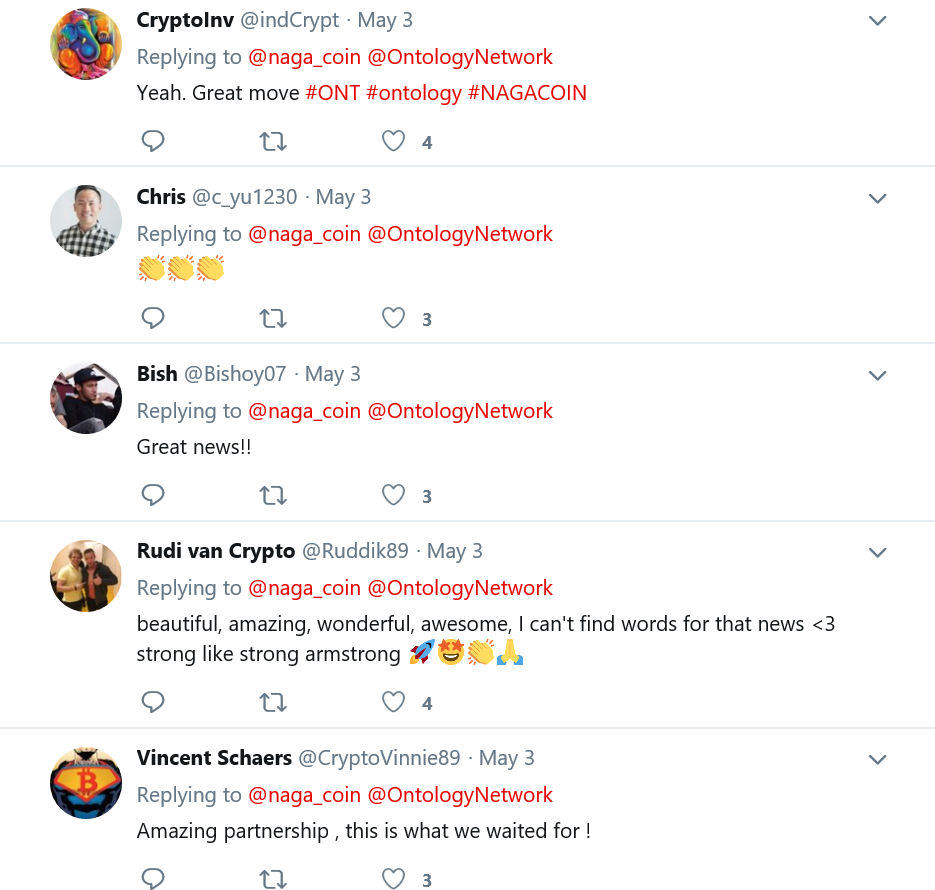 The partnership is expected to lead to significant and positive improvements  to the business operations of both companies and enhancement of  the performance of the public blockchains that include a series of complete distributed ledgers and smart contract systems to the massive financial technology markets.. In addition to that, it can also help NAGA organize and prioritize its big projects which are already in operation such as the NAGA WALLET, NAGA TRADER, NAGA CARD, NAGA COIN (NGG) others that are soon to be launched. The Ontology Platform will help scrutinize the business processes at NAGA and as a result, turn into the main power behind the biggest Crypto Ecosystems.
Ontology Founder Jun Li said: "We are happy to welcome NAGA to build up the application ecosystem through wielding Ontology's next-generation public chain infrastructure."
The Founder and Executive Director of NAGA, Banjamin Bilski also expressed his excitement about the new strategic moves that his company is making, saying , "We believe that it will help to boost and grow our business exponentially."
NAGA currently has a number of big projects in operation: NAGA WALLET, NAGA TRADER, NAGA CARD, NAGA COIN (NGC) and several other projects in development. Thus, the partnership will not only help to structurize business processes at NAGA, but can potentially mean that one of the biggest Crypto Ecosystems will soon be powered by the Ontology Platform.  Jun Li predicts that together the two companies will be able to "open up the international market, expand the Ontology ecosystem and advance global blockchain development. "