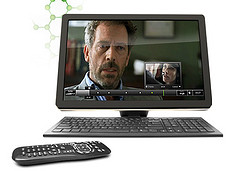 If you haven't heard of Hulu, then you probably either A) live in a hole, or B) still do not know what the internet is, or maybe both. Hulu has been called a legitimate "TV Killer" by many experts in the know, and hardcore internet users alike. To be fair, that was probably an unreasonable statement, until now.
The Revolutionary Media Center
 
Hulu has created the Hulu Desktop which is a new kind of media center application that is comparable to Netflix and Front Row. Essentially it gives you full and complete access to the Hulu TV watching program and allows you to maneuver around with either a Windows Media remote or an Apple Remote. Good news for Apple, as this would probably make it the first time an Apple remote has been used in years. You can also just navigate with a keyboard and mouse, but where is the fun in that?
Hulu Makes it Hard to be Unbiased
 
To get down to the basics, this new Desktop makes watching TV on your computer, well, more like watching real TV. You no longer have to sit cramped up in your office chair or have your hand steady and ready on the mouse in case something goes wrong. You can kick back, relax and recline in your favorite chair while streaming your favorite shows. You want a fair and unbiased review right? Well it is almost impossible to be unbiased with this Hulu application as it is stunning, efficient and overall incredibly easy to use.
Get a Hulu Account

If you get a hold of a Hulu account you can even queue up episodes of all the shows you want to watch and preview pop ups for each episode, before you decide what you want to watch. It is also easier than ever to find the content you are looking for or just tune into what everyone else is watching. You can navigate alphabetically, via a category, through the Hulu channels or even by just doing a simple Hulu search.
The Few Hulu Drawbacks
 
Of course with any new technology or gadget there are a few drawbacks. You are going to have to watch advertisements, but let's be honest, we all love a good commercial from time to time. The real thing that keeps the Hulu Desktop from allowing you to cancel your contract with your current TV provider is the fact that the videos can be removed at any time, without warning. You will also only find a few episodes backlogged of your favorite show, but if you keep up to date, it is not a big deal.
The Hulu Desktop Needs a Powerful Computer
 
While the new desktop is currently available for PC and Mac you are going to need a pretty decent operating system, and some hardware space, in order to run the application effectively. It is a pretty heavy set application and needs a modern machine to keep it running smoothly.
The Hulu Desktop Wrap-up
However, to say the least, the Hulu Desktop is pretty revolutionary and could one day negate the need for an actual television, but only time will tell. Hulu is going to need to find a way to start streaming content to people outside of USA if they truly hope to render old school television subscriptions useless. One thing you will definitely want to keep your eye out for is the new iPhone app that Hulu is looking to put out. This gives just a small hint into just how serious Hulu is about completely monopolizing your TV watching experience.
No items matching your keywords were found.